Solar Power Generation
Bluenergy roof tiles (patented)

Installed Bluenergy modules.The apparent "double" costs of roofing tiles and solar modules are less than the complex and expensive embodiment of conventional large-scale panels.
An important aspect during the product development of Bluenergy is, aside from the technical requirements, an attractive appearance.
Especially in the private use of photovoltaic systems, many owners of houses are deterred by the ugly solar panels.Those who do not want to disguise their house as Voyager 2, so far only had the alternative to do without alternatives.
For this reason Bluenergy developed a mini solar panel in co-operation with a roofing tile manufacturer, which can be simply clipped into the respective roof shingles.The panels are already supplied with wires and can be easily attached by the roofer.
We offer roofing tiles in different colors and forms, including aluminium roofing elements.The results are spectacular. No more excuses for homeowners.
Colour examples of clay roofing tiles with Bluenergy pv-modules.
Bluenergy concrete roofing tile.

Bluenergy zinc sheet.

Bluenergy aluminium roofing system (complete system)
Bluenergy Sun Facade

Bluenergy Facade-Elements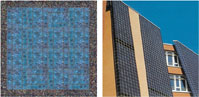 Bluenergy Solar-Ceramics
Solar architecture does not end on the roof - at least not with Bluenergy.
Bluenergy has systems available from modular facade components to solar ceramic(s), which have in addition to a clear usage for energy production, an immense value for image building.This should be interesting for the Corporate Identity of every company, which would like to represent itself as technologically open-minded, interested and environmentally conscious.
The usual steel and glass buildings of the business-real estate culture have gotten a new dimension with this technology.
The statement is clear: Intelligent acting - that's what we do. People, environment and the future are our concern.
Bluenergy Flexible Membrane-Module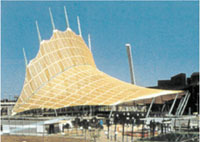 What recently seemed technically impossible, is with Bluenergy soon to be produced:
The combination of flexible materials with Photovoltaic modules.
The proprietary encapsulation (Teflon), which is common in all Bluenergy products, is also used for this application.This allows the use of photovoltaic for all kinds of tents or awnings made from fibreglass or Trevira. In addition, these materials are flame resistant.
Areas of application are for example: Sail boats, which would get their power requirement directly from their own sails, tents, as well as all surfaces, which are subjected to twisting forces, which would destroy conventional solar modules, or which could not statically carry heavy conventional pv- modules.